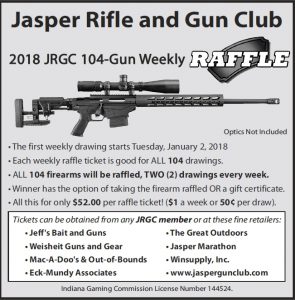 Our 104-Gun Weekly Gun Raffle started Tuesday, January 2, 2018 with the drawing of our first (2) firearms. Raffle Tickets for our 2018 drawings are still available for sale until May 31, 2018.  (Even on that date, there will still be a minimum of 60 firearms available for draw). Once the Club's goal of 2,080 raffle tickets are sold, one (1) additional firearm will be added to the draw for every 20 raffle tickets sold, so the total number of drawings for firearms will likely increase!

We are offering over 104 different firearms that anyone would love to own. Click the following link to view: 2018 Firearm Raffle List.
Our next "Bonus Firearm" is a Ruger Precision Rifle in winner's choice of caliber. Bonus Firearm Drawings occur the first Tuesday following the sale of every 500 JRGC Raffle Tickets.

Here are the "differences" that set our raffle apart from others;
104 firearms will be raffled at the rate of 2 firearms every Tuesday at 5:00pm EST.
Participants can win more than once; winning raffle tickets get placed back in the drawing.
Winner has the option of taking the firearm selected that week -OR- a gift certificate for the discounted value of the prize assigned to that week's draw.
A "Bonus Firearm" is raffled after every 500 tickets are sold. These are "in addition to" the regular weekly drawings. Our next "Bonus Firearm" is a Ruger Precision Rifle!
Participants receive a $10 discount off new or renewal JRGC membership dues.
Participants can easily track raffle ticket numbers on our web site for verification they are processed and included in the draw.

Link to Processed Ticket Numbers (updated weekly)

All this for only $52.00 per raffle ticket.
Tickets may be purchased from any JRGC member, or these fine retailers:
Jeff's Bait and Guns
The Great Outdoors
Weisheit Guns and Gear
Jasper Marathon
Winsupply, Inc.
Mac-A-Doo's and Out-of-Bounds
Eck-Mundy Associates
For an online raffle entry application, click this link: 2018 JRGC Online Entry Application.
Raffle tickets purchased by Online Entry Application will have the participant's information transcribed to the actual raffle ticket. Ticket stub will be mailed back to participant.
To view the list of previous winners, click this link: 2018 Weekly Raffle Winners.
Thanks to everyone for helping us fulfill our missions of promoting firearm education, safety and competitive shooting. THANKS!
Visit our Facebook page via the link below for updated news and information regarding our raffle. "Like" and "Share" our posts to help us get exposure! Thanks for your support!