Category Archives:
Uncategorized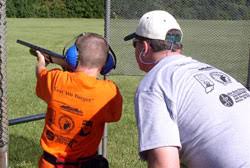 During the month of June, boys and girls from across the state converge on Ross Camp in West Lafayette for a week long experience of learning and adventure at the Karl E. Kelley Memorial Youth Camp. This year's dates will be June 21-27, 2020.
While attending, campers will be certified in Hunter Education and Boater Education. They will also participate in range day, where they will shoot muzzleloaders, shotguns, handguns, rifles, crossbows, and archery, all under the watchful eyes of Indiana Conservation Officers. In addition to the safety classes and range day, campers will participate in a water day with the ICO Scuba team, attending canoe safety classes, and enjoying airboat and Jet Ski rides.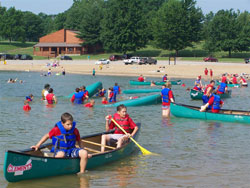 The goal of the week is to teach boys and girls life skills that they will use for the rest of their lives.
The week-long camp has a capacity of 120 campers from all over the Hoosier state, and will accepting applicants in the order of receipt.  The camp is open to first time campers both boys and girls that have completed the 5th or 6th grade and have not attended the previous summer. This year, the Jasper Rifle and Gun Club will be sponsoring any JRGC member's child or grandchild who meets this criteria. If interested, please contact us at jaspergunclub@gmail.com.
The first Indiana Conservation Officer Youth Camp was held in August 1997. It was later named in memory of F/Sgt. Karl E. Kelly, who lost his life in the line of duty while attempting to rescue fellow officers who had become trapped in a low-head dam during a training exercise in April 1998.
The 4th Bonus Drawing in the JRGC 2020 52-Week Raffle was held December 24th at 5:00pm at the Club House of the JRGC.
The winner of the Ruger 10/22 Sporter Walnut Stock Rimfire Rifle was Ken O. of Jasper IN, #14231.
Bonus Drawings are held the first Tuesday after every 250 raffle tickets are sold. The fifth Bonus Drawing prize will be a Remington Model 870 Express Super Magnum Synthetic Stock Shotgun.
The first drawing in the regular weekly raffle is in two weeks on January 7th.
Raffle tickets may be purchased from any JRGC member and members at Jeff's Bait and Guns, The Great Outdoors, Weisheit Guns and Gear, Mac-A-Doo's, Winsupply, Harmon Chiropractic, Krempp Lumber, Eck-Mundy Associates and Jasper Marathon.
Online applications can be downloaded from our web site at jaspergunclub.com/raffle.
Merry Christmas and thanks to all participants who make our yearly fundraiser a success each year and good luck in the coming drawings.